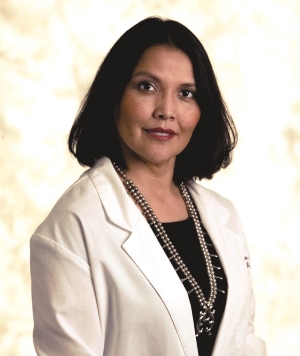 Dr. Patricia Nez Henderson, a member of the Dine' (Navajo) tribe, received her Bachelor of Science degree in Biochemistry from the University of Arizona and earned her Master of Public Health degree from Yale University. In May 2000  Dr. Patricia Nez Henderson was the first American Indian woman to graduate from Yale University School of Medicine and was the first to receive the Patricia Nez Award from Yale University School of Medicine, an annual award given to recognize a Yale School of Medicine graduate committed to improving health among American Indian populations.
Dr. Nez Henderson is considering one of the leading authorities on tobacco control in American Indian communities. For the past seventeen years, she has collaborated with Tribes and tribal communities in implementing comprehensive tobacco control and prevention programs. Dr. Nez Henderson's work has led to the Navajo Nation passing commercial tobacco-free policies for government workplaces and ceremonial settings, and increasing excise taxes on tobacco products.  In addition, Dr. Nez Henderson has developed, implemented and evaluated numerous American Indian culturally relevant tobacco-related research projects.  Dr. Nez Henderson is a panel member of the 2008 update of the Public Health Service Clinical Practice Guideline "Treating Tobacco Use and Dependence," Federal Drug Administration Tobacco Products Scientific Advisory Committee, and the Human and Health Services Interagency Committee on Smoking and Health. She and her husband, Dr. Jeffrey Henderson, have two beautiful children, Zahlanii and Mato.
Dr. Nez Henderson also serves as vice president for the Black Hills Center for American Indian Health, an American Indian nonprofit organization established in 1998 to address the myriad health needs of Northern Plains tribes.
She has served on ANR's Board of Directors since 2009.