Congratulations, Atlanta!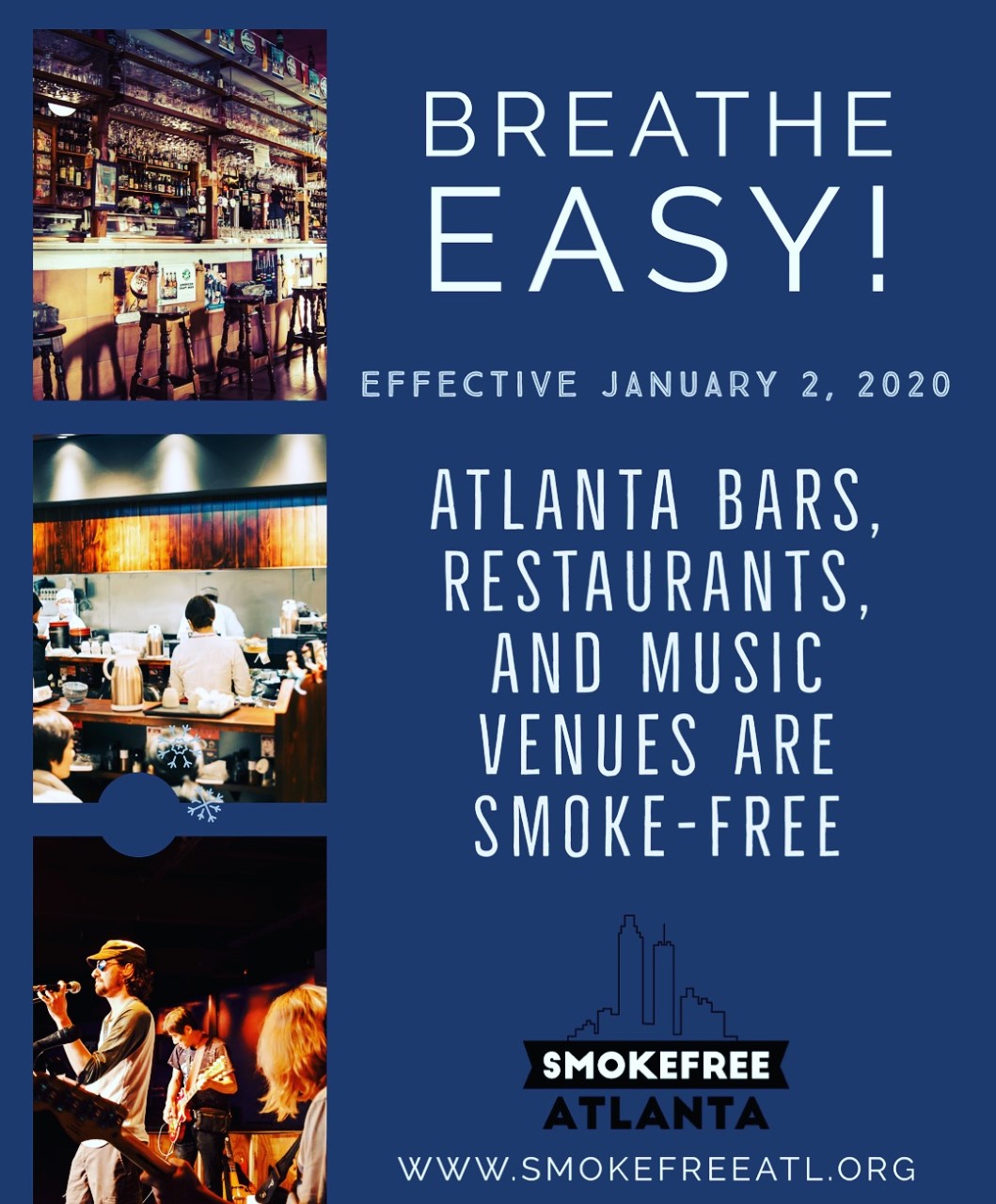 Smokefree Ordinance Passed!
Good news! The Atlanta City Council approved a smokefree ordinance on July 1, 2019, and Mayor Keisha Lance Bottoms signed it into law on July 10th.
The law will take effect January 2, 2020. It will bring smokefree air to restaurants, bars, hotels, nursing homes, Hartsfield-Jackson International Airport and more.
We applaud the city council for adopting a strong, comprehensive smokefree law to protect Atlanta's workers, visitors, and entertainers from the hazards of secondhand smoke and standing strong against special interest exemptions that would undermine regulatory parity for businesses or health parity for the hospitality workforce
Many thanks to the Smokefree Atlanta coalition and to everyone who spoke up in support for eliminating secondhand smoke exposure.
The Atlanta law will increase the percent of Georgia's population protected from exposure to secondhand smoke from 4.7% to 9.0%. Notably, the percentage of African Americans protected will increase from 7.7% to 15.2%, more than doubling the protection of African Americans in the state.
Stay tuned for more details, but in the meantime, Cheers to a Smokefree Atlanta! 
For more information about smokefree airports visit the ANR Foundation's airports page.
#SmokefreeATL
Are you a visitor to Atlanta for music, meetings, or school?
Help us thank Atlanta councilmembers for enacting a smokefree law for the health of the city's workers and visitors.
Please let them know you are looking forward to smokefree air in Atlanta's airport and hospitality venues.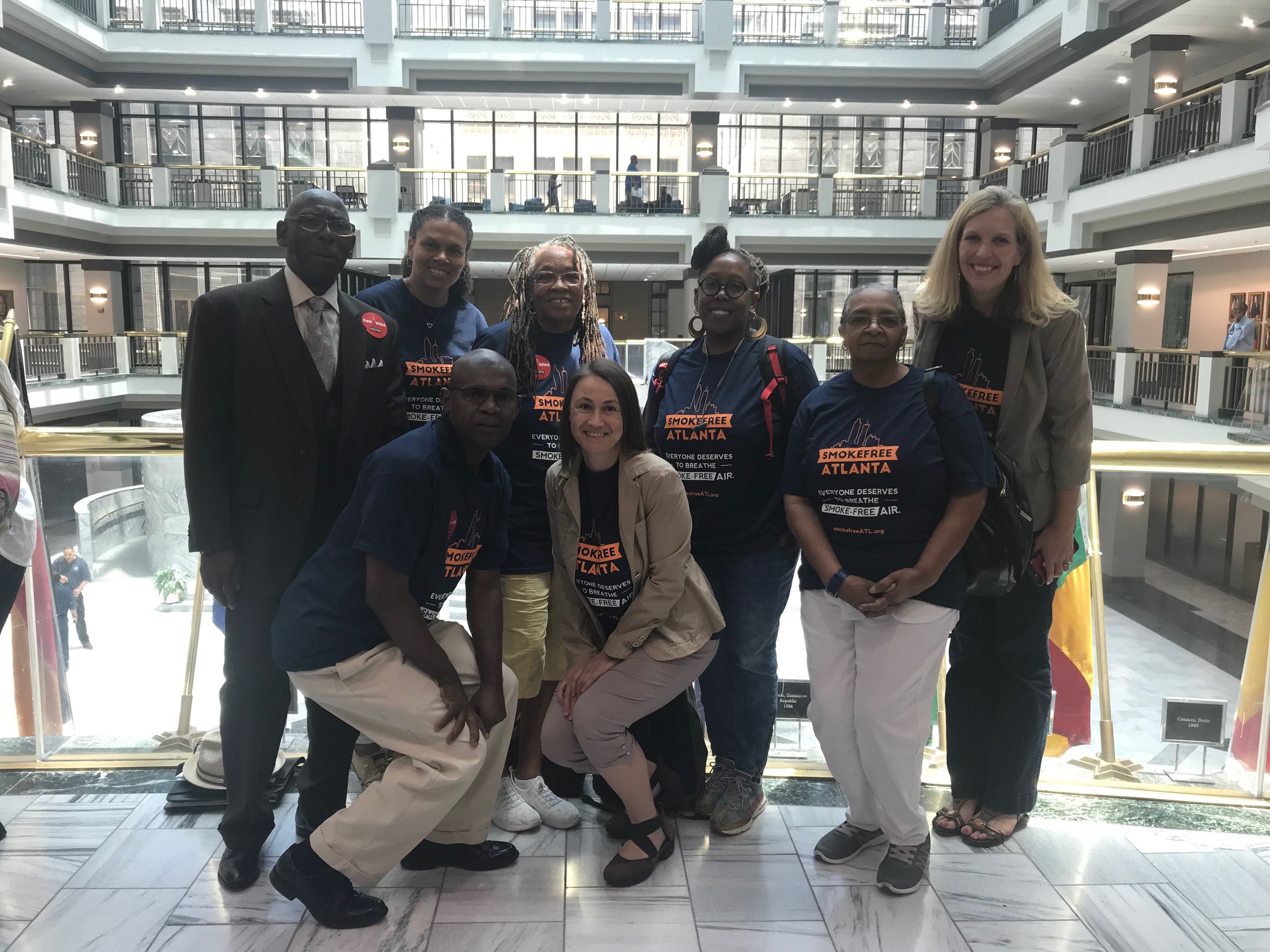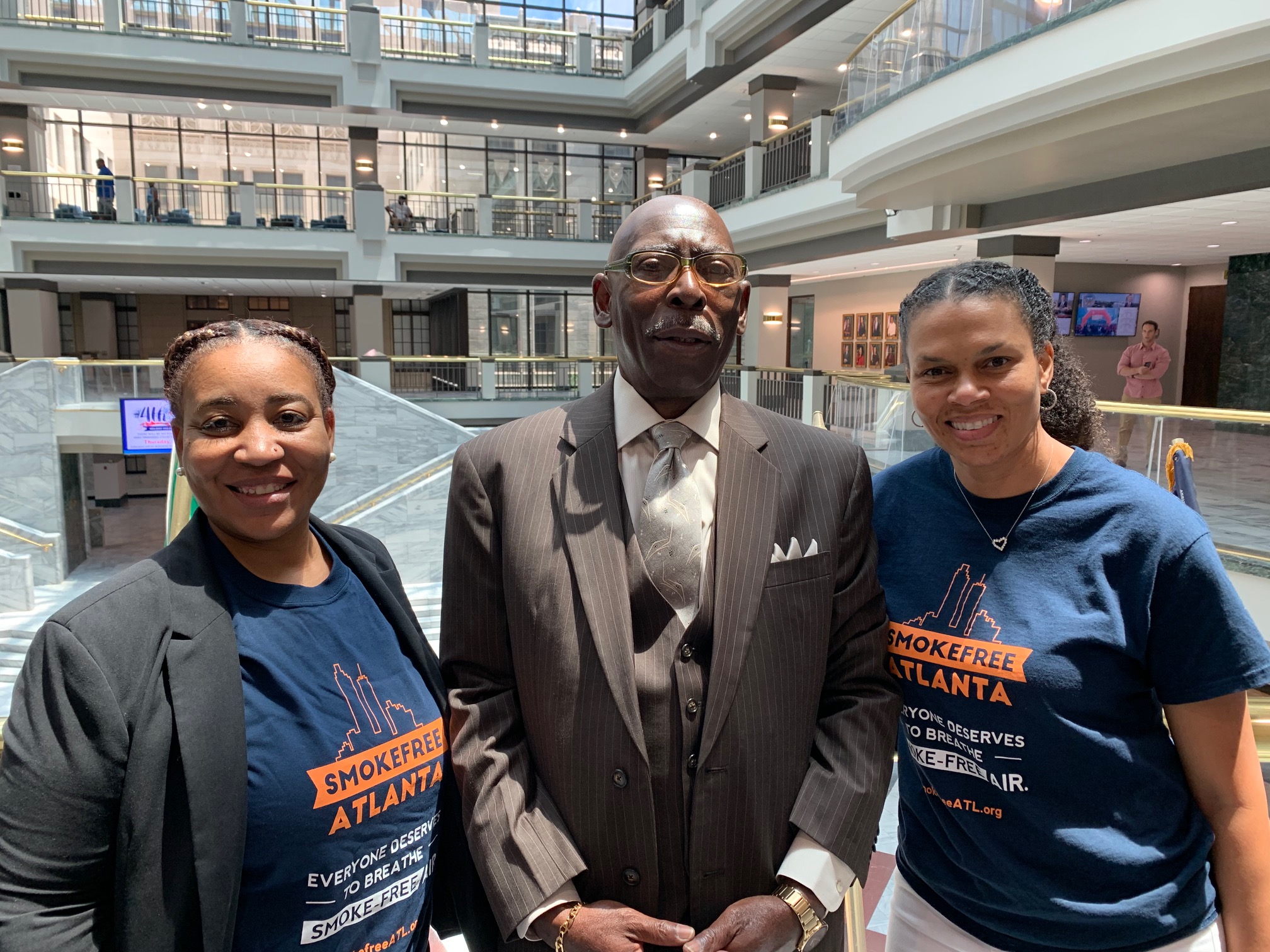 Atlanta Resurgence
As the 3rd fastest growing metro in the U.S., Atlanta is becoming the go-to city for those who want to work, live, shop, or play in the city's vibrant landscape.  While 7 of the top 10 metro cities on the list are smokefree, Atlanta continues to expose its residents, visitors, and workforce to the toxins of secondhand smoke. Everyone who works in Atlanta should be able to work in a smokefree environment — bartenders, entertainers, musicians, everyone. The same is true for anyone spending time in the city — the air should be clear for the enjoyment of locals and visitors alike. The time is right for a smokefree Atlanta.
"In this industry it's almost an impossibility not to be confronted and come face-to-face with it."
Singer-Songwriter JST David speaks out in support of Smokefree Atlanta for everyone, including musicians and others working in the service industry.
Be on the lookout for the Smokefree Atlanta Mobile Unit!
We are excited to launch the SFATL Mobile Unit as part of the campaign 's effort to "see and be seen." The truck will make appearances at community and partner events on an aggressive summer tour. Be sure to check the smokefreeatl.org website to campaign updates so you can be sure to catch the mobile campaign in action!
Smokefree Atlanta
VOTERS SIDE WITH THE RIGHTS OF EMPLOYEES AND CUSTOMERS BY A MASSIVE 67 POINT MARGIN
When asked, "Which one of the following do you think is more important? The rights of customers and employees to breathe clean smoke-free air inside workplaces, restaurants, bars, and the airport, OR, The rights of smokers to smoke and owners to allow smoking inside workplaces, restaurants, bars, and the airport," 78% of respondents support the rights of workers.
Musicians and Entertainers Rally Together to Support SmokeFree Venues in Atlanta GA. for all Hospitality Workplaces!
For Immediate Release:
Some well-known personalities throughout Georgia and around the country are stepping up to support awareness campaigns to promote smokefree workplace policies that will protect all workers from secondhand smoke exposure – including musicians, entertainers, bar, and hospitality workers. Support for this issue is growing in Atlanta due to our Smokefree Atlanta Coalition Initiative. Smokefreeatl.org, The Atlanta Blues Society Board leadership, membership, and the business community, stand in support of all musicians and hospitality workers.
"I've been in the music industry over 40 years and I have watched my friends suffer and die from smoke-related conditions even though most of them never smoked a day in their lives," said Lewis McTush of LewMar Entertainment.com and founder of "Entertainers Speak Out 4 All" and SmokeFreeRightsforAll.org. "We continue to suffer from the same diseases that affect smokers. "Don't we, and all hospitality workers, deserve a smokefree work environment like everyone else?"
Georgia's Smoke Free Air Act of 2005 prohibits smoking in most public places, but bars and nightclubs are among a few of the places exempted from the law.  Now, coalitions throughout the state are working to pass local ordinances to close that loophole. 
Artists from various musical genres including, Atlanta's own Tomi Martin of 35 Human, Stoney Taylor of Miles of Stone, Thunder Gypsy, Lenny Williams former member of Tower of Power, Shirley Jones of the Jones Girls, Tony Howard of James Brown fame, Joe Little of The Rude Boys, Calvin Richardson, Mike Bourne and the Atlanta Boogie Band, and The Classic Band, R&B Inc. are speaking out about their experiences playing in smoke filled venues and the impact it has had on them and their colleagues. "As a singer, I know the toll it has taken on my voice says Lenny Williams. "I can still sing, but I don't sing like I used to". 
Smokefree Atlanta extends this invitation to all business owners, musicians, entertainers, bartenders and wait staff to join us in our campaign to make Atlanta safe and smokefree!
"We are the vulnerable victims of our own success and our need to make a living", added McTush. "We are the living proof and witnesses to the hazards of second hand smoke exposure in the workplace. Everyone deserves a healthy, smokefree work environment."  Mr. McTush believes that a smokefree environment is one of the most important health issues of the 21st century. He is passionate about this issue.
Learn more about the campaign against secondhand smoke exposure visit; smokefreeatl.org  and smokefreerightsforall.org and "Get The Facts!"
 
Why Do We Need a Smokefree Atlanta Campaign?
Over the years, Atlanta has emerged as one of the most popular destinations in the Southeast to live and to visit.
With its emerging music and film industries, widely popular professional sports teams, and its vibrant arts community, Atlanta is leading the way for the rest of the region, and even the country, to follow.
And yet, Atlanta still lags far behind other major cities including New York, Boston, Chicago, Dallas, Houston, and Los Angeles, in protecting its workforce, citizens, and tourists from secondhand smoke exposure in public places.
The Georgia Smoke-free Air Act was enacted in 2005.
While it provides some smokefree protections, it allows smoking in bars and restaurants that do not employ people under the age of 18 or allow them to enter, allows for smoking rooms and smoking areas in workplaces with ventilation systems, and allows smoking rooms at Hartsfield Jackson International Airport.
The state law is not preemptive, meaning counties and municipalities may pass local smoke-free laws more restrictive than the state law. Efforts to pass local ordinances stronger than the state law have been difficult, and eleven years after implementation of the state law, many workers and patrons, especially those in bars, clubs, and adult entertainment establishments remain unprotected from secondhand smoke. This is the case in Atlanta as well.
Everyone who lives, works, and visits in Atlanta should be able to work in a smokefree environment.
Whether someone is working or spending time in Midtown, the West End, Buckhead, Atlantic Station, Downtown, or anywhere else in the city – the air should be clear for the enjoyment of locals and visitors alike.
Be Part of the change
Atlanta has always been a hotbed for political and social change. In Atlanta, people matter and community voices will always come together to speak up for change.
Help us protect everyone in Atlanta's right to work in a smokefree environment
Sign Up for Action Alerts