Congratulations San Francisco!
Yesterday, a truly overwhelming 81.8% of voters said No to Prop C. Thank you, San Francisco voters, for seeing through Juul's deceptive $18 million dollar campaign to re-write the rules to benefit their bottom line at the expense of kids and our community's health.
This campaign is a reminder that our communities and states have the power to fight back against Juul and Big Tobacco when community members are educated and organized. The successful defeat of Prop C will encourage other municipalities and states to take action to put public health ahead of tobacco industry profits.
San Francisco's law will go into effect in January, ending the sale of vaping products, including nicotine pods, e-liquids, and other electronic smoking devices that have not been authorized for sale by the Food and Drug Administration.
As City Attorney Dennis Herrera said yesterday, "San Francisco voters are too smart to be fooled by Juul. Juul is Big Tobacco, and it's using a classic ploy from the Big Tobacco playbook to try and hook another generation of kids on nicotine. Voters saw right through Juul's deception."
ANR is proud to be part of such an important campaign and is thankful to everyone involved in the SF Kids vs Big Tobacco coalition, who worked tirelessly to educate the community about how Juul was trying to deceptively undo years of progress on protecting our young people from a lifetime of nicotine addiction.
Just Another Charade
After investing millions, Juul suspends additional financial support for San Francisco's Yes on C
October 1, 2019—In an announcement on September 30, 2019, the e-cigarette giant, Juul, said it would cease financing the Yes on C campaign that is on the November 2019 ballot in San Francisco. Juul has already invested more than $11 million in the campaign, of which $7 million has yet to be spent. So while the campaign may not receive additional funding, there is plenty in the coffers to continue the misleading ads, phone calls, canvassing, and mailers to San Francisco residents.
Proposition C will remain on the ballot, so San Francisco voters must make a choice come November 5 on whether to support the tobacco industry-sponsored initiative designed to roll back a law that was adopted by the San Francisco Board of Supervisors in June 2019 that prohibits the sale of all electronic smoking devices not authorized for sale by the FDA, or to vote No on C to reject a rollback of this new law—and may also repeal the city's flavored tobacco law—which are designed to help prevent a new generation addicted to nicotine.  The law does not prohibit the use of these e-products, only the sale of these products.
Juul is once again taking a page from Big Tobacco's defensive playbook, which isn't surprising given the close relationship it has with the tobacco industry.  Altria/Philip Morris owns a one-third share in Juul, and Juul's new CEO, K.C. Crosthwaite, was Chief Growth Officer at Altria before joining Juul on September 25, just five days before this decision. Perhaps Juul is seeking to appear to be "good corporate citizens" much like Big Tobacco did to prolong, if not prevent, any government regulatory processes. Or perhaps, given the recent youth vaping epidemic and the increasing number of severe lung illnesses and fatalities, Juul/Altria/Philip Morris will now actively seek FDA authorization to sell Juul under the guise of helping adult smokers to kick the combustible smoking habit. If the FDA gives authorization, this will still result in products flooding back into the market, perhaps with fewer competitors, and once again giving Philip Morris a monopoly in the nicotine business.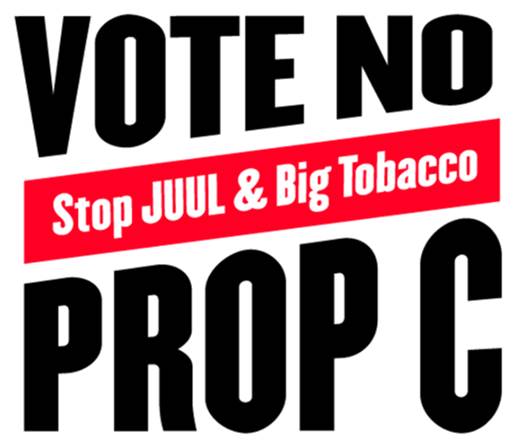 Juul is also taking a page from Big Tobacco's interference playbook by recruiting users to join "The Switch Network," designed to look like a grassroots movement. Philip Morris engaged in a similar activity in the late 1990's in an effort to counter the rise in public support for and the adoption of local smokefree laws.The now defunct National Smokers Alliance (NSA) was comprised of employees of the company and smokers who signed up for discount coupons. The NSA appeared to be a group of concerned citizens, but the American Nonsmokers' Rights Foundation's report, "The National Smokers Alliance: Exposed" documented the origins of this Big Tobacco Front Group. Shortly after the report was released, the group disbanded. The public and policy-makers should take heed and question the validity of this group. 
While it's good news in the short term that Juul is stepping back in San Francisco, we have to keep sight of the bigger goal of eliminating sales of all flavored tobacco products including mint and menthol, closing gaps in smokefree protections, and supporting comprehensive tobacco control and cessation programs. One thing we can be sure of is that Philip Morris/Altria still expects to vastly grow its profits from Juul:
Big Tobacco=Juul. 
San Francisco Voters Choose Health over Tobacco Industry Targeting
June 6, 2018
Berkeley, CA - Yesterday, voters in San Francisco chose to end the sale of flavored tobacco products with an overwhelming 68% approval of Prop E.
 
The decisive vote upholds the law that the San Francisco Board of Supervisors unanimously adopted in June 2017 to end the sale of all flavored tobacco products, including candy-flavored vaping liquids and menthol cigarettes. The new law is scheduled to go into effect in the near future.
 
This significant public health victory sends a strong message to the tobacco industry that people are demanding that the health of our communities be prioritized over an industry that has made its profits by targeting and addicting generations of young people to its deadly products. 
 
The tobacco industry has a long and well-documented history of profiling and targeting youth and low-income communities of color for economic profit that comes at the expense of peoples' lives. The tobacco industry and their allies also have a long history of using tricks and deceptive messages to try to prevent and overturn strong tobacco control laws. 
 
R.J. Reynolds Tobacco Company, the country's 2nd-largest tobacco company and maker of top menthol cigarette brand Newport, spent nearly $12 million on its deceptive and unsuccessful campaign to overturn this locally adopted law, flooding the airwaves and mailboxes with doomsday ads that played on fears and misconceptions. When it comes to industry tactics, some things never change.
 
The impact of San Francisco's Prop E victory will be felt not only in the city and Bay Area, but also around the country as more communities will feel empowered to take action. Oakland's law regulating the sale of flavored tobacco products will go into effect on July 1, and yesterday the San Mateo County Board of Supervisors voted to adopt a law that's as strong as the one voters upheld in San Francisco.
 
ANR is proud to be part of the SF Kids vs. Big Tobacco coalition of local, state, and national tobacco control partners, parents, doctors, health organizations, and community groups who worked together to support the Yes on Prop E campaign.
 
San Francisco's new law, and other laws regulating the sale of flavored tobacco products around the Bay Area, are the result of many years of hard work, education, and community outreach by the African American Tobacco Control Leadership Council and the efforts of local tobacco control partners, who continue to build support for these landmark public health improvements.
 
We look forward to seeing more of these laws pass in other communities to continue the social norm change that starts with smokefree air protections and is evolving to include tobacco retailer regulations that are designed to stop the predatory marketing of the tobacco industry and prevent another generation addicted to tobacco and nicotine products. 
To learn more, see our action alerts here and here, and visit sfkidsvsbigtobacco.com and savingblacklives.org,
San Francisco Residents Urged to Vote Yes on Prop E to End Candy-Flavored Tobacco Sales
ANR encourages San Francisco voters to vote Yes on Prop E on the June 5, 2018 ballot.
Your Yes vote would prevent the rollback of a strong public health law that was unanimously adopted by the Board of Supervisors to protect the health of kids and prevent another generation addicted to tobacco.
A Yes vote on Prop E will uphold the law that the Board of Supervisors unanimously adopted in June 2017 to end the sale of flavored tobacco products, including menthol cigarettes and candy-flavored tobacco and electronic cigarette "e-juices." It was the last health measure signed by Mayor Lee.
Why is Prop E even on the ballot? RJ Reynolds, the country's 2nd-largest tobacco company and maker of Newport menthol cigarettes, feels threatened by San Francisco's strong public health action and has already spent more than $3.5 million dollars to overturn this local law.
Don't be deceived. The No on Prop E campaign is funded by Big Tobacco and has a large pocketbook that they're using to run doomsday ads on tv and online media citing fears about Prohibition, and mailing letters to San Franciscans claiming that the law should be repealed because the city has other pressing needs. This is not a surprise, and it is nothing new. When it comes to industry tactics, some things never change. 
The colorful products you see on the right look like your kids' favorite sweets, but they're actually nicotine-laced liquids for electronic smoking devices like vape pens.
There is no doubt that tobacco and e-cigarette companies continue their predatory targeted marketing of flavored tobacco products to youth. 
We cannot let Big Tobacco reverse this landmark public health action by the San Francisco Board of Supervisors.
If you don't live in San Francisco, please share this information with your friends, family, and colleagues in San Francisco and encourage everyone to vote Yes on Prop E.
ANR is proud to be part of the San Francisco Kids vs. Big Tobacco coalition of parents, doctors, health organizations and community groups supporting Yes on Prop E.
You might bump into one of us if you are able to take time to volunteer to distribute door hangers in San Francisco neighborhoods or do phone banking in support of this important initiative!
To learn more and to get involved, contact us or visit sfkidsvsbigtobacco.com.
Youth Tobacco Use
Over 80 percent
of kids who have used tobacco started with a flavored product.
The best way to prevent
tobacco-related illness and death is to keep youth and other vulnerable populations from starting to smoke in the first place. 
Youth smokers
are more likely to use menthol cigarettes than any other age group. 
Flavored tobacco products
are disproportionately marketed to youth and young adults, African Americans, the LGBTQ community, and low-income communities. 
Tobacco companies were required
by the FDA to remove all flavors from tobacco cigarettes except for menthol, which makes smoking less harsh and makes it easier for the user to become hooked.
Communities are adopting
tobacco retailer license requirements that restrict or prohibit the sale of flavored tobacco products, including menthol cigarettes and candy-flavored electronic smoking devices and "e-juices." 
Communities are taking action
to limit the negative public health consequences of tobacco use and to reduce the impact of targeted tobacco industry marketing, especially to youth and low-income communities of color.
Target Marketing of Menthol Cigarettes
Historically, the tobacco industry's attempts to maintain a positive image among African Americans have included such efforts as supporting cultural events and making contributions to minority higher education institutions, elected officials, civic and community organizations, and scholarship programs. 
However, the tobacco industry has had a long and well-documented history of profiling and targeting African-Americans with predatory advertising, menthol products, discounted pricing, and other tactics to increase their profit at the expense of individual lives.
Learn about the tobacco industry's targeting of menthol cigarettes to African Americans by checking out the compelling graphic developed by the African American Tobacco Control Leadership Council.