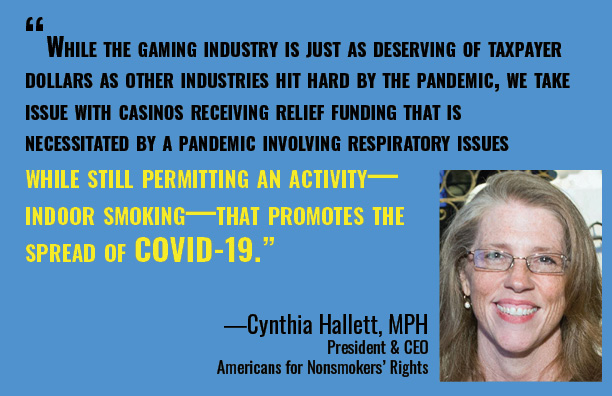 CDC Gaming Reports: Advocacy group wants casinos to ban indoor smoking or be exempt from COVID-19 relief funds
This article originally appeared in CDC Gaming Reports and is re-posted here with permission.
Advocacy group wants casinos to ban indoor smoking or be exempt from COVID-19 relief funds
By Howard Stutz, CDC Gaming Reports · December 4, 2020
The largest advocacy group in the nation that seeks to ban smoking in casinos said Thursday operators should be denied any federal COVID-19 relief funds unless the gaming industry goes smoke-free.
Americans for Nonsmokers' Rights took that message to the American Gaming Association ahead of the Washington D.C. trade organization's semi-annual board meeting, scheduled for Friday.
In a letter to AGA CEO Bill Miller that was delivered Thursday, the organization didn't dispute that the gaming industry was deserving of federal tax relief, admitting that casino operators have been hit hard financially by the coronavirus pandemic that closed nearly 1,000 commercial and tribal casinos in 43 states for several months earlier this year.
"We take issue with casinos potentially receiving such relief funding, (which) is necessitated by a pandemic involving respiratory issues, while still permitting an activity – indoor smoking – that promotes the spread of COVID-19," Cynthia Hallett, CEO of the Berkley, California-based Americans for Nonsmokers' Rights, wrote in the letter.
She wrote that Miller should use his "leadership position to make the argument to your members about why smoke-free indoors is a smart policy."
AGA officials were preparing for the board meeting Thursday and did not respond to a request to comment on the letter.
Miller, along with gaming representatives, has sought to be part of any federal coronavirus relief efforts that could be used to aid gaming employees who had been furloughed or laid off and could stimulate the travel and tourism industries.
Currently, nearly two dozen states require gaming properties to be 100% smoke-free. Several states that added casinos over the past decade, such as Ohio and Maryland, opened their resorts as smoke-free casinos. Some 135 tribal casinos nationwide are smoke-free properties.
Since the COVID-19 outbreak, three states – Pennsylvania, New Jersey, Michigan – have temporarily banned smoking inside casinos, and casino operators in Arkansas and Rhode Island voluntarily went smoke-free.
Nevada, the nation's largest gaming state, has long resisted anti-smoking efforts inside casinos. However, MGM Resorts International reopened Park MGM on the Strip as a fully non-smoking property in September following the property's more than six-month closure.
"We think this will truly work and resonate with our customers," MGM Resorts CEO Bill Hornbuckle told the Las Vegas Review-Journal in September. "If they want to be in a completely smoke-free environment, this is the one to be (at). We think it's the right time, the right place."
The organization last month sent a similar letter to Nevada Gov. Steve Sisolak, urging him to require that all casinos in the state adopt a smoke-free indoor policy. The group said the move would be a better alternative than once again closing gaming properties.
In her letter to Miller, Hallett wrote that "industry arguments against going smoke-free have grown stale and do not withstand scrutiny."
Casinos throughout the U.S. have reopened under various COVID-19 health and safety guidelines calling for cleaning and social distancing protocols. Most properties require everyone on the casino floor – employees and guests alike – to wear masks or facial coverings at all times, unless eating or drinking.
"Guests who wear a mask but are allowed to remove it while inside to smoke are blowing potentially hazardous droplets into shared air for fellow guests and gaming employees to breathe in, which increases the risk for transmission of COVID-19, amongst other health risks," Hallett wrote. "No credible public health official would approve of this, but it's standard operating procedure in most casinos."
She said the letter was also shared with members of the Congressional Gaming Caucus and other congressional members who are leading COVID-19 relief negotiations.
"We request that you only accept taxpayer dollars, which we agree are needed to sustain gaming jobs and business operations, if casino operators agree to adopt a smoke-free indoor policy that would help to keep employees and guests safe," Hallett wrote.
Howard Stutz is the executive editor of CDC Gaming Reports. He can be reached at hstutz@cdcgaming.com. Follow @howardstutz on Twitter.
ANR Foundation Statement
Atlantic City Casinos Reopening Smokefree
The Facts
100% smokefree workplace policies are the only effective way to eliminate secondhand smoke
The 2006 U.S. Surgeon General's Report, "The Health Consequences of Involuntary Exposure to Secondhand Smoke," concluded that 100% smokefree workplace policies are the only effective way to eliminate secondhand smoke exposure in the workplace. Even sophisticated ventilation systems do not eliminate the health hazards of secondhand smoke. Casino, bar, and restaurant workers remain significantly more exposed to toxic secondhand smoke at their job site compared to other segments of the U.S. workforce.
The National Institute for Occupational Safety and Health (NIOSH) recommends making all casinos 100% smokefree to ensure indoor air within casinos is safe for workers to breathe.
Smokefree Casinos
In the casino industry, it's often said that change is the only constant. One area of change is the growing trend for smokefree casinos. 
At one time, smokefree casinos were as unthinkable as smokefree airplanes or restaurants were in their era.  Today, it is an issue in flux.  On one hand, there are more than 1,000 smokefree casinos and gambling venues. It is required by law in 20 states for state-regulated venues, and numerous sovereign tribes have  also adopted smokefree policies. On the other hand, most gambling sector workers are still exposed to secondhand smoke. There is a stark disparity of exposure even within individual companies based on the simple geography of smokefree laws.
The sooner that cities and states enact strong smokefree workplace laws, the sooner casino companies and their workforce with achieve regional parity on this important health and safety issue.  
Casino operators have invested billions of dollars into scores of new smokefree indoor air casinos in just the last five years alone. Operators have learned how to make smokefree indoor air a non-issue while still being welcoming to all customers.  For example, with having outdoor smoking patios located off the gambling floor.  
Who is affected?
Workers
"It's A Great Job, But Not Worth Dying For"
A casino's smokefree air worksite policy reflects concern for the health and well-being of casino staff. It is no surprise that casino workers are among the biggest supporters for smokefree gambling. Aside from lowering employee morale, constant exposure to secondhand smoke creates higher rates of absenteeism and turnover, higher health and life insurance costs, workers' compensation payments, disability payments, and even leads to premature death. With just 1 less day of absenteeism per casino employee per year, smokefree casinos stand to save a lot of money annually in lost productivity.
No one should have to get sick from breathing toxic air in their job. Smokefree laws save lives and improve health at a population wide level.
"The cigarette smoke in the casinos was hurting me so badly that I was struggling to breathe."
Hear Alecia's story in her own words about what it was like to work in Nevada's smoke-filled casino industry, an industry that eventually took her life in 2015. 
"I believe that my health mattered and it was up to me to say something, cause they weren't going to protect me."
Working for decades in smoke-filled casinos resulted in Sheryl's battle with throat cancer. You will note that Sheryl's voice was weak in this recording (2011). Soon after this recording, her voice was too weak to speak at all. She asked us to "be her voice" when she could no longer speak. Sadly, Sheryl lost her battle with cancer on August 3, 2012. We will continue to fight for smokefree air in all casino workplaces, for Sheryl, and for all casino workers. Please join us!
"I became an activist to try to clean the air...for employees not to fear everyday going into work."
After decades working at a smoke-filled casino, Vinny Rennich found out he had lung cancer. He had never smoked. Hear how he fought back, and won.
"SOMEONE WOULD BE SITTING AT THE BLACKJACK TABLE WITH THEIR CIGARETTE, AND I WOULD BLOW, TRY TO BLOW THE SMOKE AWAY."
Treva shares her story of what it is like to work in casinos. Treva is now a casino dealer in a smokefree casino and she loves it!
Who Else is Affected?
Patrons
Giving the Players and Patrons a Voice
Most casinos have a player's club. Casino player's club members are repeat customers who are invested in their particular casinos and brands. Casinos offer special rewards and incentives to keep their player's club members satisfied and coming back for more gambling or entertainment experiences, including dining, shows, hotel upgrades, and so forth. Therefore, it is important to engage casino patrons (including potential customers) and player's club members in the conversation about the need and desire for a smokefree casino. Their input will be crucial to help support a smokefree policy. This is something to consider carefully.
"I love the fact that I don't have to smell smoke"
Kathy's story is that of a community member in a casino town, and someone who loves to patronize smokefree casinos.
What's the Real Cost of Keeping
Secondhand Smoke in Casinos?
Don't Buy the Ventilation Lie
Tobacco companies targeted the casino industry for years with the idea of investing money into costly ventilation systems to deal with secondhand smoke rather than go smokefree.  But the science is clear: Even sophisticated casino ventilation systems, smoking sections, or smoking rooms do not address the health hazards of secondhand smoke. This can be easily affirmed with the use of air quality monitors looking at biomarkers of exposure in workers such as NNK – a tobacco specific carcinogen.  
The only way to protect health is with a 100% smokefree environment. Even low levels of smoke exposure can still cause a lot of health damage.
Yelp and Trip Advisor
Make Your Voice Heard Online
How Did Secondhand Smoke Affect Your Visit
Casino management and shareholders pay attention to popular websites that provide customer reviews (such as TripAdvisor and Yelp). Encourage community members to post comments on the casino's Facebook site and review sites, demonstrating public support for a smokefree gambling experience. If smokefree supporters are a silent majority, then the casino management will only hear from the tobacco industry and a handful of disgruntled smokers. Positive comments about smokefree policies help management know that the policy is popular.
If you have to go to a meeting or sporting event at a smoke-filled casino complex, be sure to urge your event organizers to adopt a policy to only have events at smokefree venues.  
Examples of actual postings:
"Thank you for the smokefree indoor air for the health of your awesome staff and patrons. We recently visited the property and appreciated the thoughtful design for outdoor smoking areas accessible from the gaming floor." 
"As a Hollywood Team member and an ex-smoker (16.5 years smokefree) I LOVE the smokefree atmosphere. Even the smoking players (I work as a dealer) are impressed by the clean air  and easy access to a smoking patio. It's a win-win for all!"  
Share Your Story
Secondhand smoke affects me!