One Year Smokefree!
On Saturday, June 1st, 2019, ANR Foundation helped celebrate the one-year anniversary of SmokeFree Baton Rouge. Last year on June 1, 2018, the City of Baton Rouge and East Baton Rouge Parish became Louisiana's 13th municipality to protect all workers from secondhand smoke exposure.  The law also prohibits the use of electronic smoking devices in smokefree environments.  
The one year anniversary event was held at Bengal Tap Room, a local bar and entertainment  located in Downtown Baton Rouge.   
Of special note: Deputy Chief McGarner from the Baton Rouge Police Department, reported that they  have not had any enforcement issues reported or fines issued in regards to the year old smokefree ordinance.
The event was attended by dozens of smokefree supporters who enjoyed the music by DJ Mox Swag. Raegan Carter (ANR Foundation) and Ashley Hebert (American Heart Association, were the Emcees of the event.  
The happy group mingled and shared stories about enjoying the smoke free environments in Baton Rouge and in cities. DaVante Lewis said "SmokeFree Baton Rouge is one of the best things to happen in the Capitol City. Now I enjoy hanging out with friends in the downtown bars without having to risk my health from secondhand smoke exposure" 
One of the bartenders said, "I really like the smoke free environment. I don't have much more than that to say--" A simple but powerful statement of the impact that smoke free environments have on employees. 
LEARN MORE:
Baton Rouge Smokefree Law Reduces Indoor Air Pollution by 98.8%
Louisiana Secondhand Smoke Study Committee House Concurrent Resolution 76 and Media Statement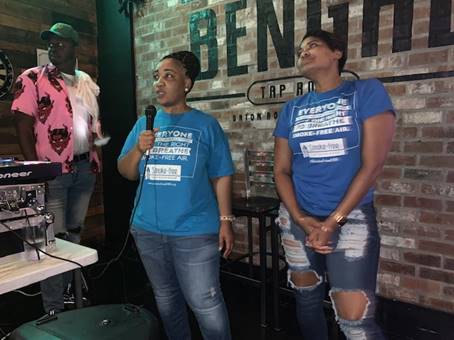 Smokefree Baton Rouge
Congratulations to Baton Rouge Louisiana on the six month anniversary of the city's smokefree workplace law! Thanks to the law, indoor air pollution in casinos and bars has declined 98.8%. The law was passed with strong support from the community, including musicians, bar and casino workers speaking up for their need to breathe clean air in their job.
On June 1, 2018, the City of Baton Rouge and East Baton Rouge Parish became Louisiana's 13th municipality to protect all workers, including those in bars and casinos, from secondhand smoke exposure.  The law also prohibits the use of electronic smoking devices in smokefree environments.  
Baton Rouge has a long tradition of music and cultural expression that its residents have come to love. The smokefree ordinance will ensure that local and touring musicians and entertainers will be able to perform in healthy, smokefree venues while they are in the capitol city. To help the community prepare for its new smokefree stastus, Smokefree EBR will be participating in a number of community events to make sure that everyone – residents, workers, and tourists – will be ready to enjoy smokefree environments throughout the parish. 
One of the exciting partner events included The 2018 Baton Rouge Blues Festival – April 14-15: Smokefree EBR was the Presenting Partner for the entire weekend – hosting more than 55,000 attendees. Performing artists included world-reknowned headliner Mavis Staples and regional favorites Kenny Neal, The James Hunter Six, Samantha Fish, Christ Thomas King, Lazy Lester, JST David, Erica Falls, and many more.  
For more information about the law, visit brla.gov/smokefree and read the ANR Foundations's blog post.
East Baton Rouge Smokefree Supporters
Pictured here are just some of the many volunteers, musicians, community leaders, and community partners who helped make smokefree East Baton Rouge Parish a reality.  
Baton Rouge will be healthier place to live and work for generations to come thanks to smokefree air in all workplaces and public places.
Baton Rouge Becomes Louisiana's 13th Smokefree City!
Effective Date June 1, 2018
Congratulations to the Smokefree East Baton Rouge coalition and the Baton Rouge Metro Council members!
By a vote of 7-5, the council approved a measure on August 9, 2017 making bars and casinos 100% smokefree by June 1, 2018; the law also prohibits the use of electronic smoking devices in smokefree environments. The vote highlights a multi-year community effort that started in 2015 led by musicians and others who work in hospitality venues.
It is disappointing that the council delayed the implementation date until June. This means months of additional unnecessary exposure to secondhand smoke for workers and the public throughout the City of Baton Rouge and the East Baton Rouge Parish. Additionally, the casino association threatened to seek state level preemption to override the local law. ANR, a core partner in the campaign, will be helping support successful implementation for Baton Rouge.
Across the U.S, there are now more than 800 smokefree casinos and other gambling venues, most of them thanks to local and statewide smokefree workplace laws (that ANR helped support). 
Local smokefree laws in cities like Baton Rouge and New Orleans are in line with the growing broader trend in gaming communities for smokefree air in hospitality workplaces. Bar and casino service jobs don't have to come with life-threatening exposure to secondhand smoke.  
Casino companies have invested billions of dollars into smokefree gambling properties in the past five years alone and want these properties to succeed. By moving the smoke outside and away from entrances, casinos can be more attractive to the 85% of the U.S. adult population that doesn't smoke.
Baton Rouge is the 13th city in Louisiana to pass a local smokefree ordinance.  When the law goes into effect, the percent of the Louisiana population protected by a local smokefree workplace, restaurant, and bar law will increase from 18.4% to 28.1%.
In 2007, the Louisiana state legislature passed a law bringing smokefree air to all restaurants and non-hospitality workplaces in the state, but failed to extend the same protections to bar and casino workers due to political pressure from the tobacco industry and its allies. Ten years later, Baton Rouge's hospitality workforce, musicians, and music fans alike will finally have the right to breathe smokefree air in the city's bars and casinos.