The Original Guide
Clearing The Air is a step-by-step guide to passing smokefree ordinances and policies.
It provides information and tips for every stage of a smokefree campaign, including using online networking, and implementing and enforcing a new smokefree law.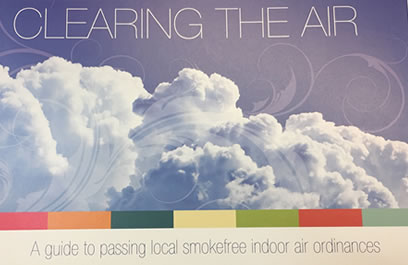 Decades of Expertise
Updated to Keep You Current
Perfect for any community interested in passing or strengthening a smokefree law or campus policy.
ANR has updated Clearing The Air to include information on emerging issues and new policy areas in tobacco control including:
Electronic smoking devices
Secondhand marijuana smoke
Casinos and other gambling venues
Multi-unit housing
College campuses
Tobacco-free pharmacies
The updated guide also includes responses to opposition arguments in these emerging policy areas. Order your copy of the 2017 Addendum and receive a copy of the original 42-page Clearing The Air guidebook, free of charge.