Latest News
Summit in Pennsylvania
May 22nd, 2018
The Breathe Free PA coalition held their annual summit inviting decision makers, advocates and those most impacted by secondhand smoke to come together to move Pennsylvania to close the gaps in smokefree protections. 
Featured speakers included statewide leadership from the VFW pledging their support for smokefree air, especially in places where veterans gather at private clubs across the state.  They are urging other organizations like theirs to follow suit.  As leaders, they have not asked Pennsylvania lawmakers for a carve out of the statewide smokefree law and would like to see all clubs be smokefree.
The summit also focused on protecting casino workers, the largest sector of employees left behind by Pennsylvania's partial law.  Sharing their personal stories about the adverse health impacts of secondhand smoke, particularly during pregnancy, created a sense of urgency to act on smokefree air.
For more info or to get involved, follow Breathe Free PA on FaceBook.
House Bill 1309 & Senate Bill 519
What Are They?
Companion bills HB 1309 & SB 519 aim to remove current exemptions in the statewide smokefree workplace law by expanding protections to all workplaces, bars, casinos, and private clubs.  The bills also restore local control by striking down statewide preemption of local governments.
Thanks to local and statewide smokefree laws, many of Pennsylvania's neighbor states already enjoy smokefree air in casinos and bars. The Pennsylvania gaming and hospitality workforce deserve the same smokefree protections.
You Can Help
If you are a resident or visitor of Pennsylvania or have a connection (family, business, tourism) to the Keystone State, we need to hear from you - your voice matters! 
Please contact the Breathe Free Pennsylvania coalition for more information on how to get involved.
Veterans Support Smokefree Air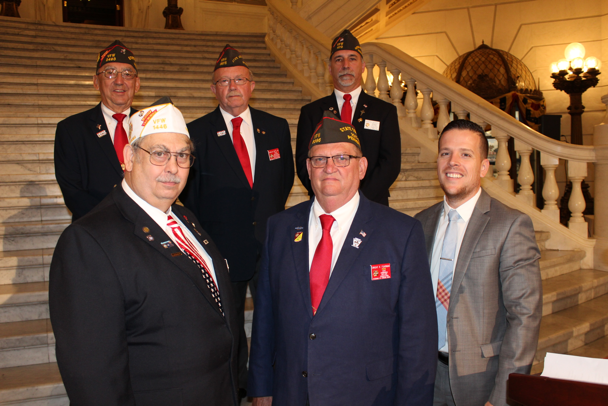 The Pennsylvania State Veterans of Foreign Wars (VFW) is a strong supporter of this bill, which would make their facilities and all other private clubs smokefree.  State Commander Dwight R. Fuhrman said:
"It is time for the state to end the smoking exemption for all facilities licensed by the Pennsylvania Liquor Control Board, including all private clubs. The Pennsylvania VFW wants to improve the health of all veterans, their loved ones, and employees inside our clubs. Removing this exemption for all PLCB license holders will create an even playing field so there won't be a competitive disadvantage for those clubs that become nonsmoking operations."
If Pennsylvania Goes Smokefree
We'd Save More Lives