Salt Lake City International Airport
Smokefree in 2016
Good News!
Salt Lake City International Airport (a major Delta Airlines hub) is finally phasing out all its indoor smoking areas and will be 100% smokefree indoors by the end of 2016. This is a major victory given the decades of tobacco industry pressure to keep indoor smoking.
"This is first and foremost an issue of public health, both for travelers and our airport employees, but it is also an issue of space concerns," said Mayor Biskupski, on the closure plan. "The current airport terminal is also beyond capacity, and every foot of available space should be used to the best advantage of the traveling public."
Victory in California
Five new tobacco control laws adopted
A thunderous round of applause went through the ANR offices on May 4, 2016. 
 
Why all the excitement? Because Governor Jerry Brown had just signed a bill for which ANR advocates had been fighting for more than two decades. 
 
The landmark 1994 California smokefree law, among other things, was the first state law to include bars, but it also included significant exemptions, which left many workers breathing secondhand smoke on the job for the last 22 years. Local communities have always led the way in smokefree air protections, and 116 California cities and counties adopted strong laws that do not contain the workplace exemptions in the state law. The new strengthened statewide law closed most of those exemptions. California workers are now able to breathe easy in businesses with five or fewer employees, employee break rooms, warehouses, hotel lobbies, and owner-operated businesses.
 
In addition to strengthening the smokefree workplace law, the new 2016 laws define e-cigarettes and other electronic smoking devices as tobacco products and prohibit their use in smokefree spaces, increase the tobacco products sales age from 18 to 21, require charter schools in addition to other K-12 schools to have tobacco-free campuses, and establish an annual tobacco retailer licensing fee.
 
Tobacco industry lobbyists fought hard against these bills, but the bill sponsors and advocates did not give up and the Governor took this monumental opportunity to save lives in California. Governor Brown's action put the health of Californians above tobacco industry profits. We applaud the state legislature and Governor for finally extending these important public health protections statewide.
Since the passage of these state laws, California communities have continued to lead the way by adopting local laws for smokefree multi-unit housing and outdoor public places, and prohibiting the sale of menthol cigarettes and other flavored tobacco products.
 
Smokefree New Orleans
"We are One"- Smokefree NOLA!
The Good Times Have Been Rolling In Smokefree New Orleans!
On April 22, 2015, the City of New Orleans joined the ranks of world-class cities with a strong smokefree indoor air law! The law covers all hospitality workplaces such as restaurants, bars, casinos, and hotels.
Thanks to all the ANR members and friends who responded to our action alerts by sharing your support for smokefree air with the city.
It has been a long road to the life-saving smokefree NOLA law. ANR began working with advocates in the city in 2003. The law is already inspiring other cities to follow suit.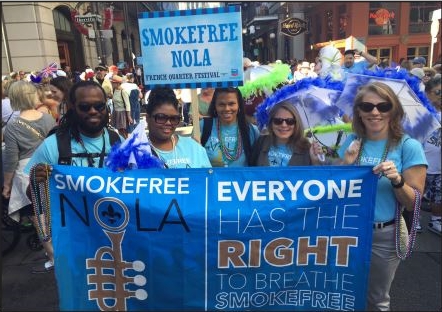 Celebrating Smokefree Skies
25th Anniversary in 2015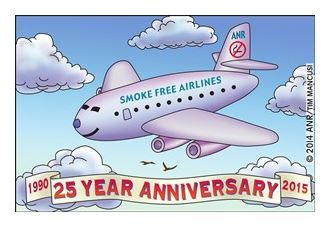 On February 25, 1990, the "no-smoking" sign was permanently lit on U.S. domestic airline flights - for the health of flight attendants and passengers. This eventually led to smokefree air on all flights to and from the U.S. and to smokefree policies for airlines worldwide.
2015 marked the 25 year anniversary of this important public health achievement - made possible by a broad coalition of health groups, incredible legislative champions - Senator Lautenberg and Senator Durbin (then Rep. Durbin), and tenacious flight attendants who were willing to speak up publicly for their right to breathe.