In Trenton, Casino Workers Tell Lawmakers Not to Leave Them Behind in Smoke While Giving Casinos Tax Breaks
December 9, 2021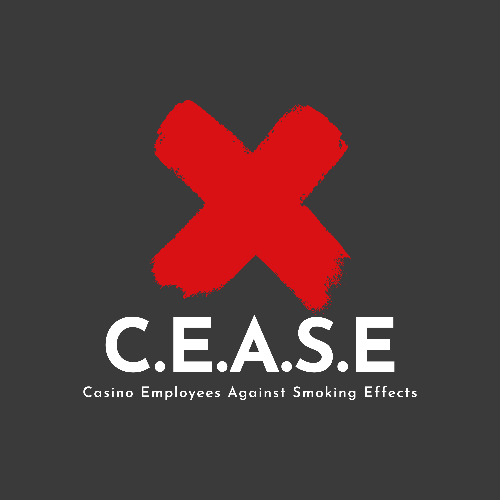 Contact: ceasesmokingnj@gmail.com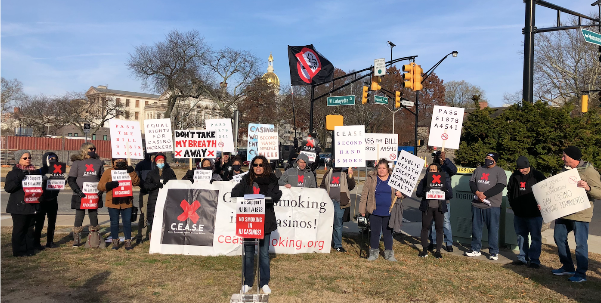 Trenton, NJ— Lawmakers cannot give tax breaks to casinos through the PILOT legislation being rushed through the lame duck session without also protecting the health of casino workers by eliminating the casino smoking loophole, said Atlantic City casino workers at a press conference in Trenton this morning. The workers, part of Casino Employees Against Smoking's Effects (CEASE) that consists of thousands of Atlantic City casino dealers and other frontline casino employees, are urging legislators to pass S1878/A4541 immediately. 
"Why is the lame duck session focused on tax cuts for the casinos instead of the health of workers?" asked Lamont White, a co-leader of CEASE. "We're forced to deal with something no other employee in New Jersey is forced to deal with – poisonous secondhand smoke. Legislators, you cannot pass a tax break for casinos without also protecting our health. Please, don't leave us behind in the smoke. Our health is in your hands."  
"As we speak, Senate President Steve Sweeney is pushing a bill for casinos to give them a tax break, but seems to have little interest in giving us a break from breathing in secondhand smoke," said Nicole Vitola, a co-leader of CEASE. 
"I have one question for the legislators of our state: where are your priorities?" asked Pete Naccarelli, a co-leader of CEASE. "Where are your priorities when you spend all week discussing the PILOT bill so the billion-dollar corporations can make more money and have no mention of the loophole that allows secondhand smoke to slowly poison the employees in the casinos?" 
Since the pandemic-induced ban on smoking indoors was lifted on July 4, casino employees have demanded action from the state's leaders including Governor Phil Murphy and Senate President Steve Sweeney to close the casino loophole so that workers no longer have to choose between their health and their paycheck.
"This is a public health issue," said Senator Joseph Vitale, a primary sponsor of S1878. "New Jersey has not only accepted the fact that there is no risk-free level of exposure to secondhand smoke but has acted on that fact by passing the Smoke Free Air Act. To not apply this policy uniformly across all industries is unfair and irresponsible."
"It's shocking that with the knowledge we have about the hazards of second-hand smoke, we have to fight so hard to protect the health of casino workers," said Senator Shirley Turner, a primary sponsor of S1878. "All other indoor workers have enjoyed protection from toxic cigarette smoke for more than 15 years. In this day and age, second-hand smoke should not be an occupational hazard."
"I have talked to my colleagues, the support is there to get this done," said Senator Vince Polistina. "The time is now. Let's make it happen. I'm going to do everything I can."
Assemblywoman Valerie Vainieri Huttle, an original sponsor of A4541, said, "As we emerge into a 'new normal' in the aftermath of the COVID-19 pandemic, our priorities must be to promote policies in the interest of public health, that includes restricting smoking in casinos. Over the course of the last year, casinos have successfully adjusted to operations with smoking bans, now is the time to make these changes permanent and ensure a healthier New Jersey moving forward."
S1878 is sponsored by Senators Vitale and Turner and co-sponsored by Senators Patrick Diegnan, Loretta Weinberg, Teresa Ruiz and Vince Polistina. A4541 is sponsored by Assemblywomen Valerie Vainieri Huttle, Shanique Speight and Verlina Reynolds-Jackson. Both bills "[eliminate the] smoking ban exemption for casinos and simulcasting facilities."
A new video published this month, "A Loophole in NJ Law Is Killing Casino Workers," highlights the urgency of the casino workers' fight to close the casino loophole. 

Casino Employees Against Smoking's (Harmful) Effects (CEASE) is a group of thousands of casino dealers and other frontline gaming workers that formed after indoor smoking returned on July 4th and is fighting to permanently remove smoking from our workplaces.
Americans for Nonsmoker's Rights (ANR) is a member-supported, non-profit advocacy group that has been working for 45 years, since 1976, to protect everyone's right to breathe nontoxic air in workplaces and public places, from offices and airplanes to restaurants, bars, and casinos. ANR aims to close gaps in smokefree protections for workers in all workplaces, including bars, music venues, casinos, and hotels. For more information, please visit https://no-smoke.org/ and https://smokefreecasinos.org/.
 
###